A collection of 5 benefits from cat licking treats, a favorite snack loved by cats
For those who have cats as pets at home, when it comes to "cat licking treats", most people are already familiar with it. Some people may even turn away or immediately refuse to let cats consume these cat licking treats, worried that they may be bad for the cat's health. However, cat licking treats aren't always the culprit, most people tend to misunderstand that this type of treat doesn't have any benefits, so why give it to the cat? Today, we have gathered 5 benefits of cat licking treats. What are they? Let's find out!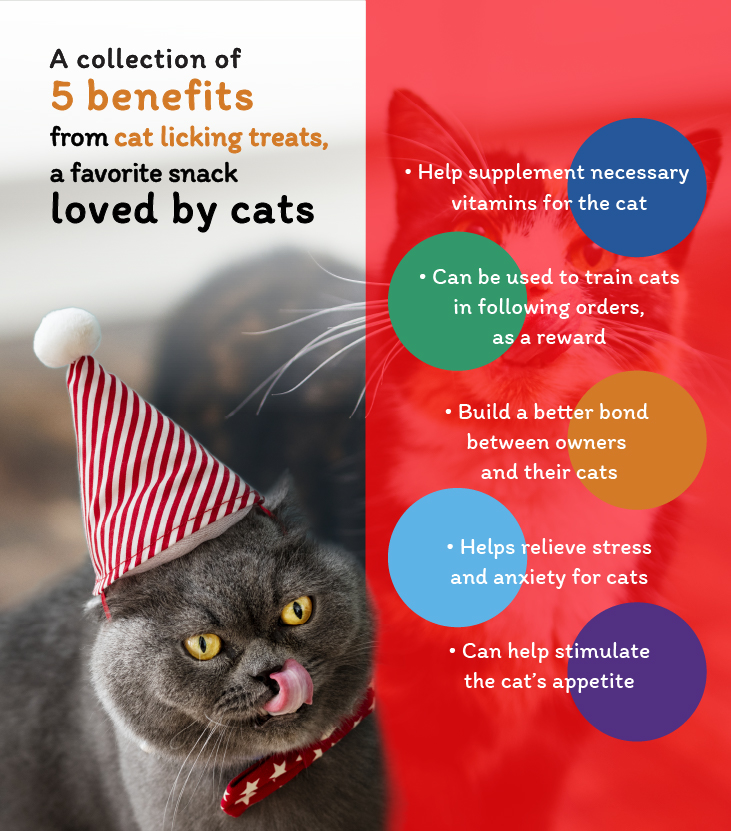 ► Help supplement necessary vitamins for the cat
First of all, it can be claimed that cat licking treats also contain essential nutrients for the cat's health. In some meals or some weeks, you may incorporate cat licking treats into their diet to help add vitamins in addition to the main meal.
► Can be used to train cats in following orders, as a reward
If you are training your cat, that period may require patience and extra effort for both yourselves and your cats. Giving them licking treats can help motivate your cat. This makes it easier for them to listen to instructions and follow their owners.
► Build a better bond between owners and their cats
If you're looking for a special moment with your cats, but often get ignored, try picking up a packet of some cat licking treats! This guarantees that your cat will scurry along for sure. During this moment, licking treats can also help owners and their cats get closer and more familiar with each other.
► Helps relieve stress and anxiety for cats
Did you know that giving cat licking treats can be a great help in relieving stress and anxiety? These treats can come in handy if you want to relieve anxiety or reduce stress on your cats. A cat's anxiety or stressfulness can be caused by many reasons, such as moving to a new home, being adopted, etc.
► Can help stimulate the cat's appetite
If you notice that your cats are starting to show signs of anorexia or experience some illness that may result in the decrease of food intake, giving them licking treats that smells and tastes good is another option that can stimulate their appetite.
However, cat licking treats should be given in the right amount, taking into account some precautions. Especially if they have any congenital diseases that need extra attention and being aware of the main objectives in giving cat licking treats to them. You still have to focus on giving them a healthy diet, feeding them a main source of meal, not only giving them treats. In addition, you need to carefully choose a brand that is safe and standardized. Also purchasing from a reliable source that sells these products.
Source:
https://www.hartz.com/en-ca/the-benefits-of-wet-cat-treats/
https://m.facebook.com/story.php?story_fbid=pfbid0296A7yaKR3HPqW9udwqka6h26KcvJbVpcEVNKRqazZa42FM6C8Mr7GteKibPXbXRl&id=101383455113961